Free shipping on orders over $125!
Regular price
Sale price
$15.95 USD
Unit price
per
Sale
Sold out
Indulge your inner foodie with an aromatic treat on the trail. Featuring sliced chicken with a fragrant combination of curry and spices, this savory meal tickles the taste buds with a creamy coconut cream sauce and a hint of ginger, cumin, and cinnamon. Top it off with roast veggies for a satisfying dinner the entire camp will want to try.
Nutrition Summary
Ingredients

freeze-dried chicken, organic coconut milk powder (dehydrated organic coconut milk, organic tapioca maltodextrin (derived from organic yuca root), organic acacia fiber), medium chain triglycerides powder (medium chain triglycerides, prebiotic acacia fiber), freeze-dried broccoli, freeze-dried red bell pepper, freeze-dried yellow bell pepper, organic curry powder (coriander, turmeric, brown mustard, fenugreek seed, cumin, cinnamon, red pepper flakes, ginger, black pepper, cardamom), salt, garlic powder, organic tomato powder, ground cumin, ground ginger, ground cinnamon
How To Make

Tear open pouch at notch and remove oxygen absorber

Bring 6–7 oz of water to a boil and pour into pouch until contents are submerged (but not swimming)

Stir contents, seal, and let your meal rehydrate for 7–10 minutes (use caution: bag can get very hot)

Open bag, stir again, and enjoy!
View full details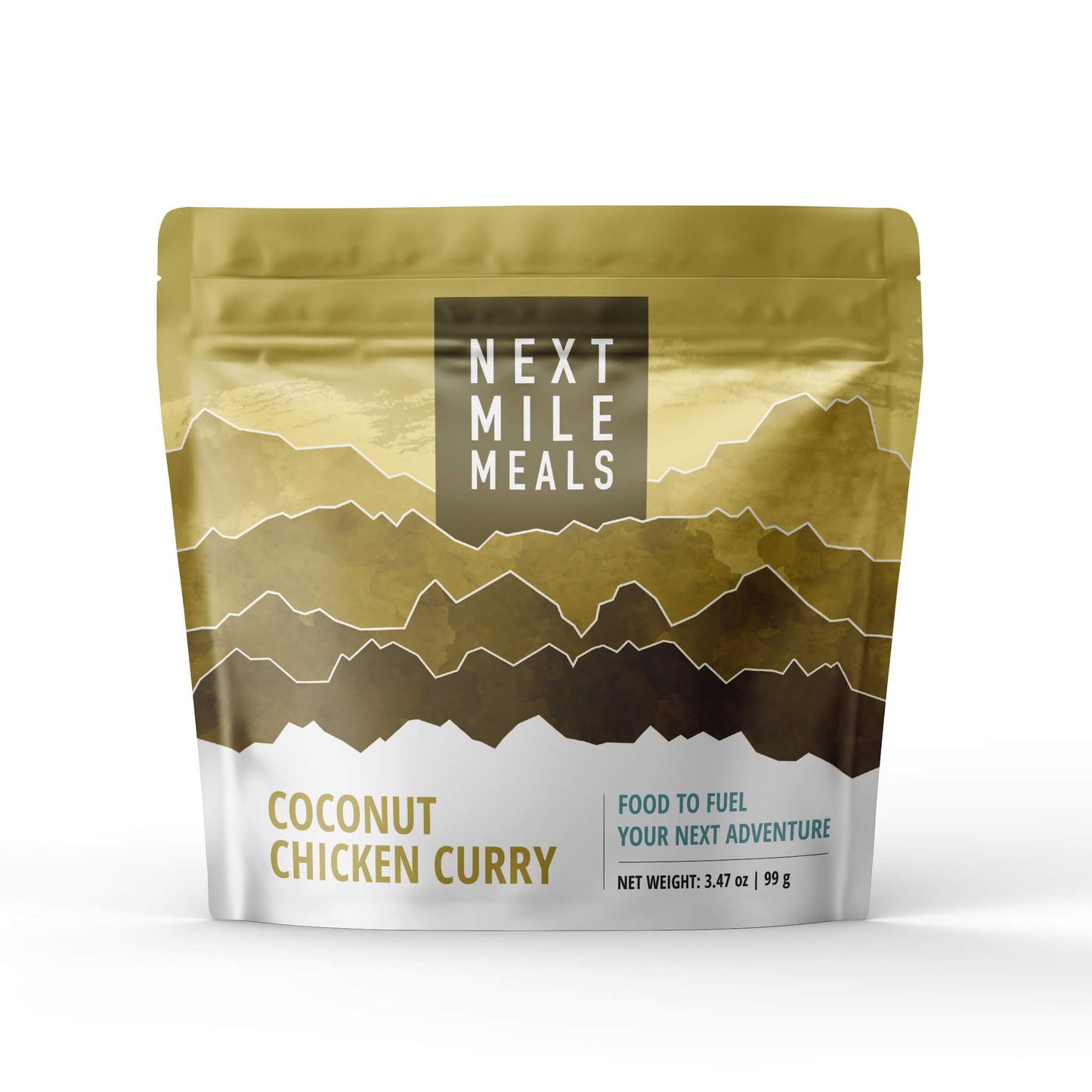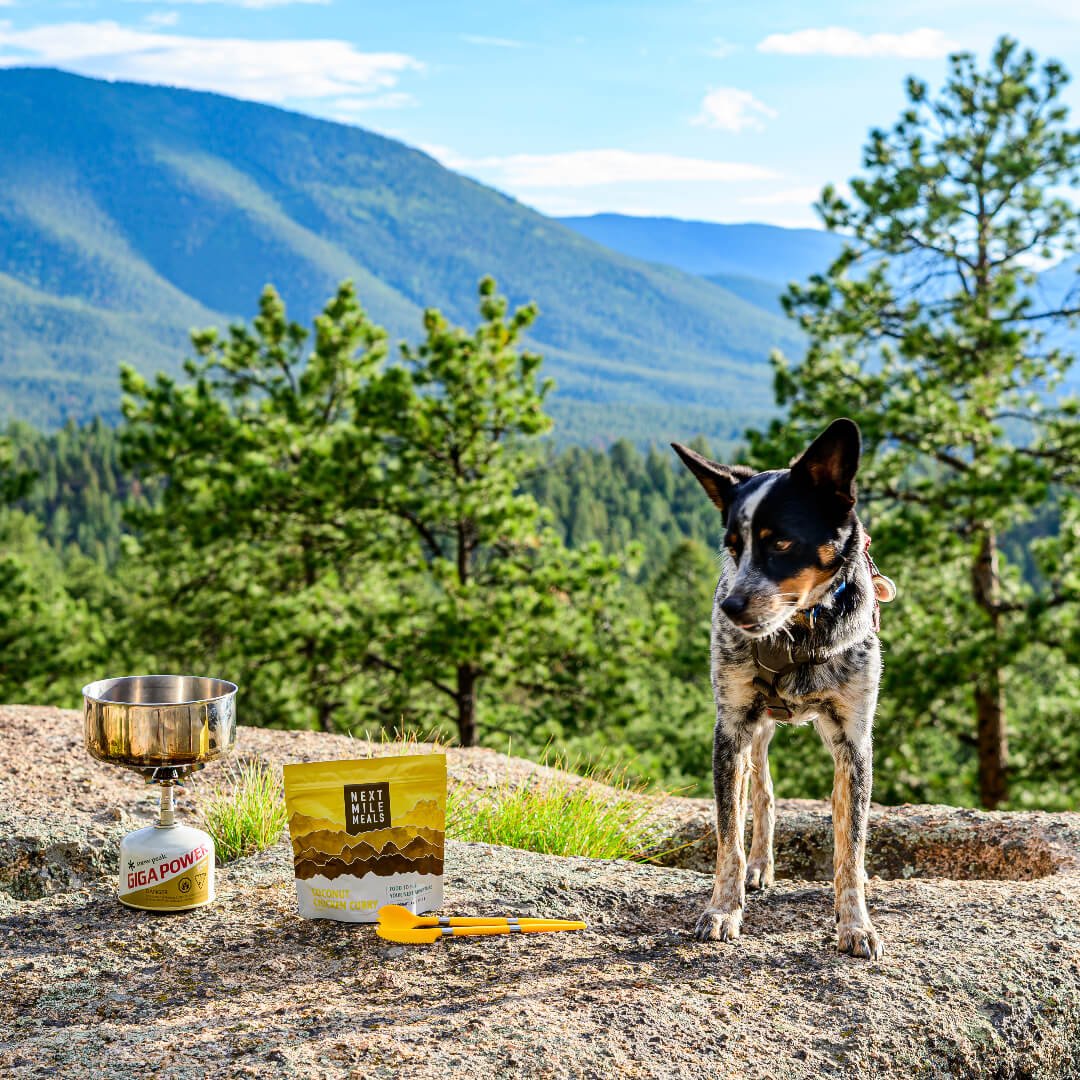 Dairy Free

Healthy fats from coconut milk and sliced chicken make this dairy-free delight.

Keto Friendly

Just 8 net carbs per serving helps you stick to your macros no matter the miles.

Protein Fueled

With 52g of protein, you're ready for whatever the trail throws at you.

Soy Free

This meal contains no soy or other highly-processed ingredients.

Gluten Conscious

We use only gluten-free ingredients and our kitchen facility takes every precaution to prevent cross-contamination.
What our Customers Are Saying
Coconut chicken Curry
I ook three different products from Next Mile Meals on a week long paddling trip to the Everglades National Park. I've been hiking and paddling in the backcountry for about 25 years now, and I usually rely on dehydrated meals. Next Mile Meals are unlike any of the other brands out there, and I've probably had a hundred different meals from all of the major brands. They really do taste like something you'd make at home.
Next Mile Meals Rock
Love the coconut chicken curry as well as all of the dinners and breakfasts. These meals are fantastic, the vegetables and meat tastes fresh and the flavours are wonderful.
Yummy
I was so excited to try this. It was very tasty, could have used a little more salt. No matter how long I waited- I could not get all the chicken to soften. I would buy again because it was good and something different.
Delish
Great flavor and easy to use. Only problem was the chicken did not rehydrate super well but that may have been user error or unrealistic expectation. For context I was in the Rockies at about 10500 feet using the meals and even with 20 minutes of soaking it was still a bit dry but I was hungry and needed to eat.
Fraudulent company
Lured in for 10% discount on first order, ordered $340 worth of food, no discount. Site has chat option 'click to chat with human' now button. No humans. Auto-respond email says they only work 9-5 m-f (which is totally fine) but then you waste time waiting for a human when they have no intention of answering Sat/Sun. Olivia emailed me on Monday saying they have issues with their tech on the 10% discount, and she won't credit me, so I'd have to ... get this ... order another $340 worth IN THE NEXT 3 MONTHS to get the 10% on the original $340... that's 1/2 discount on 2X the order $ which is 2.5% shelling out twice as much money. I then offered to take the 10% in additional food, and she said no. Putting 2 & 2 together this is a drop ship outfit since they can't even adjust a credit card purchase, let alone do any shipping themselves. The owner emailed me and told me to shop at big box ... so his solution is he keeps my $34, I tried to work with him, his arrogance has me writing this review warning you folks that this is a top-down operation out of some office with a fulfilment center someplace doing everything. He wants to use all the big box tech to lure us in but can't manage the tech (Olivia's emails ... not my words) on overpriced food. Good luck.
I'd avoid like the plague. Contacting my credit card company to dispute this bait switch fraud. All I wanted was what they offered me to get me to purchase. The arrogance.
Hi Jonathan. After reviewing your messages to our staff, it appears you placed an order and then demanded our staff apply a discount retroactively to an older order. Our staff offered to look into the issue further to figure out if there was a technical issue as to why you didn't receive our email with our welcome code, but you became abusive and our founder (a woman, for the record) stepped in to prevent her team from enduring more. She stated to you that threats and bullying had no place in our company and encouraged you to shop at larger companies that might cave to your threats. You are welcome to handle your delivered order with your bank however you deem appropriate. Cheers.