Free shipping on orders over $125!
Regular price
Sale price
$15.95 USD
Unit price
per
Sale
Sold out
Ditch the carb fillers and snag all the protein with this classic flavor combination of creamy buffalo sauce and ranch dressing, with a healthy portion of shredded chicken, colorful peppers, and delicious spices.
Nutrition Summary
Ingredients

freeze-dried chicken, dehydrated sweet cream (sweet cream solids), ranch seasoning (sweet cream solids, dehydrated hot sauce powder [distilled vinegar, aged cayenne red peppers, salt, water, canola oil, paprika, xanthan gum, natural butter type flavor, and garlic powder], maltodextrin, natural flavor, and silicon dioxide], sea salt, paprika, onion powder, garlic powder, parsley powder, xanthan gum, black papper, dill, chives), freeze-dried red bell pepper, freeze-dried yellow bell pepper, dehydrated celery stalk
How To Make

Tear open pouch at notch and remove oxygen absorber

Bring 6–7 oz of water to a boil and pour into pouch until contents are submerged (but not swimming)

Stir contents, seal, and let your meal rehydrate for 7–10 minutes (use caution: bag can get very hot)

Open bag, stir again, and enjoy!
View full details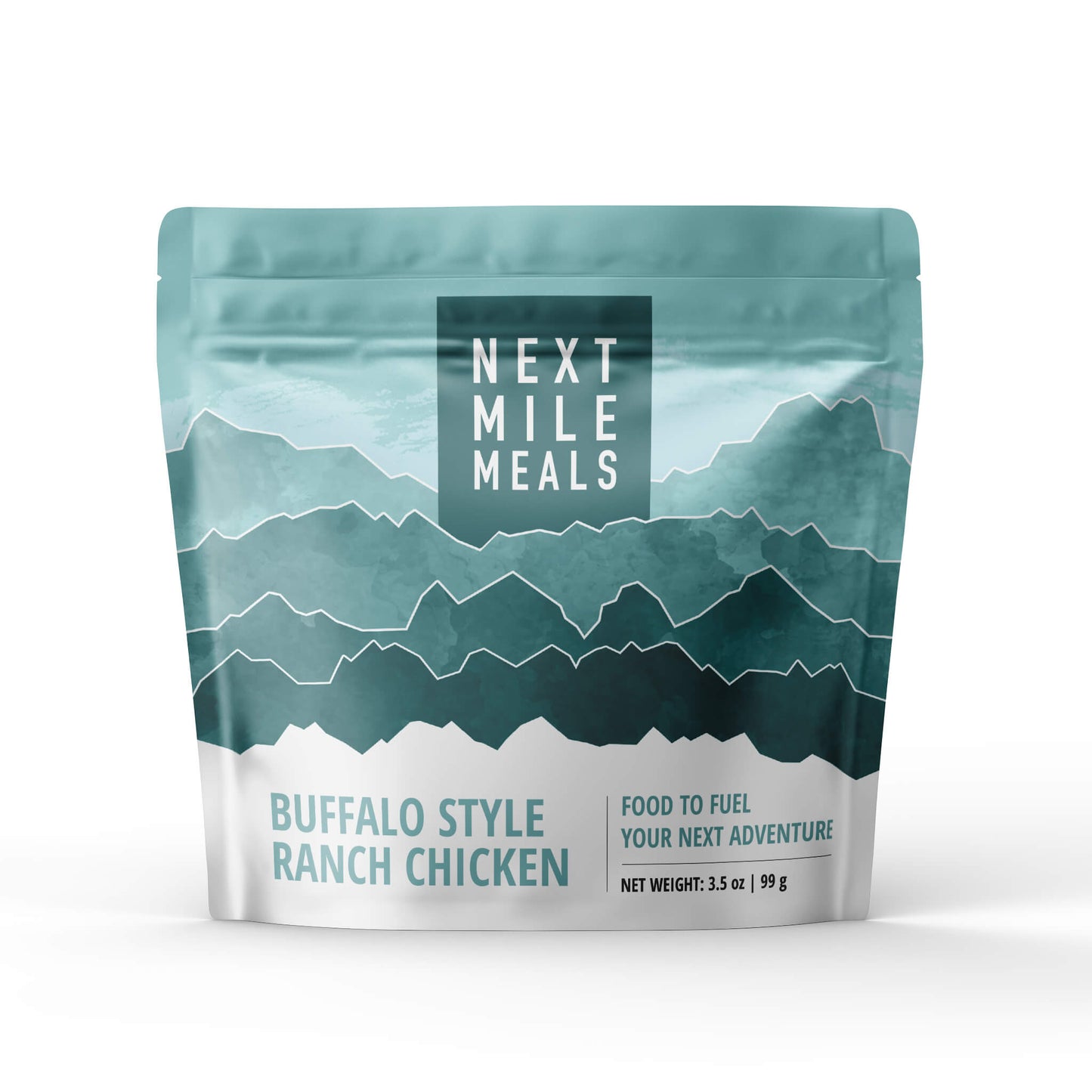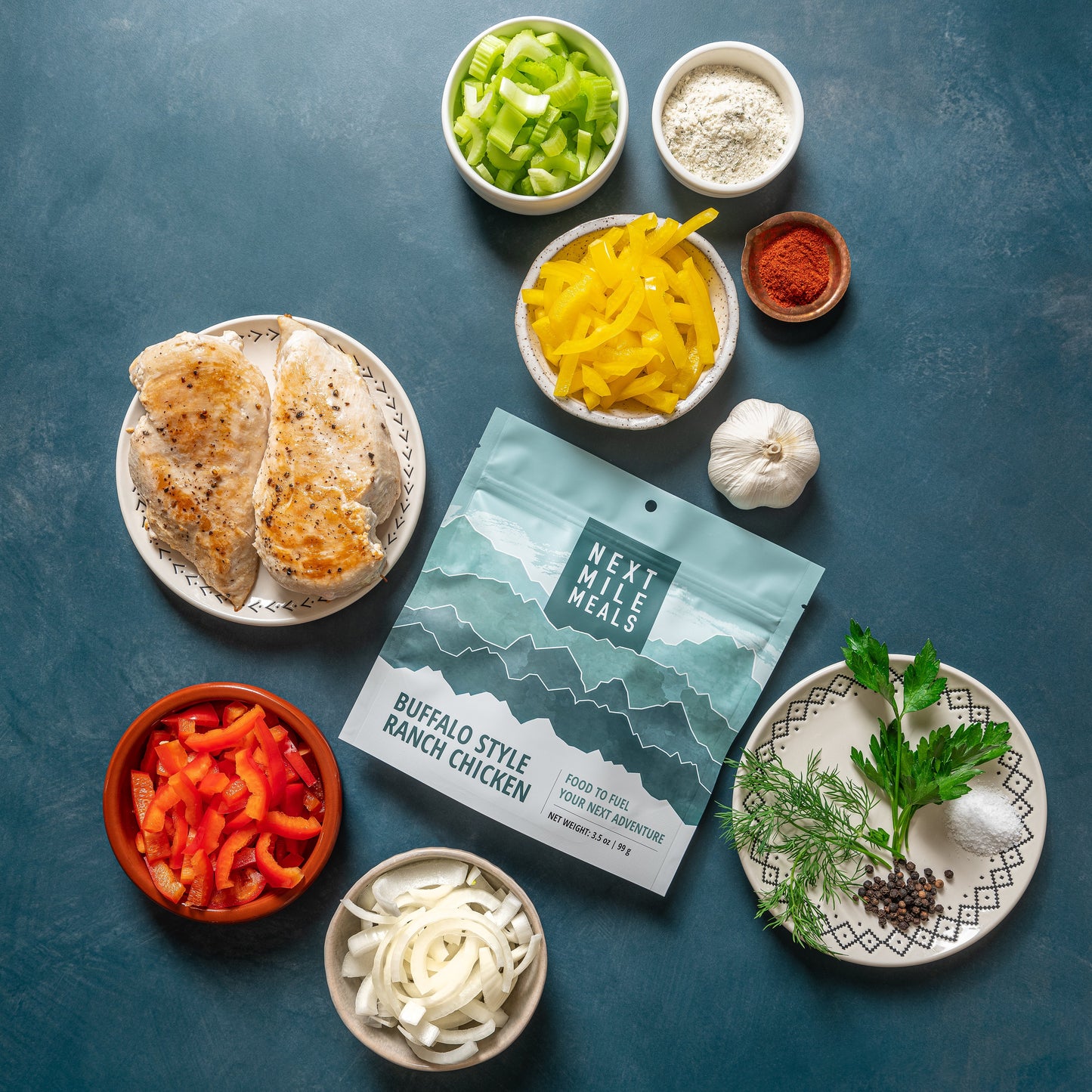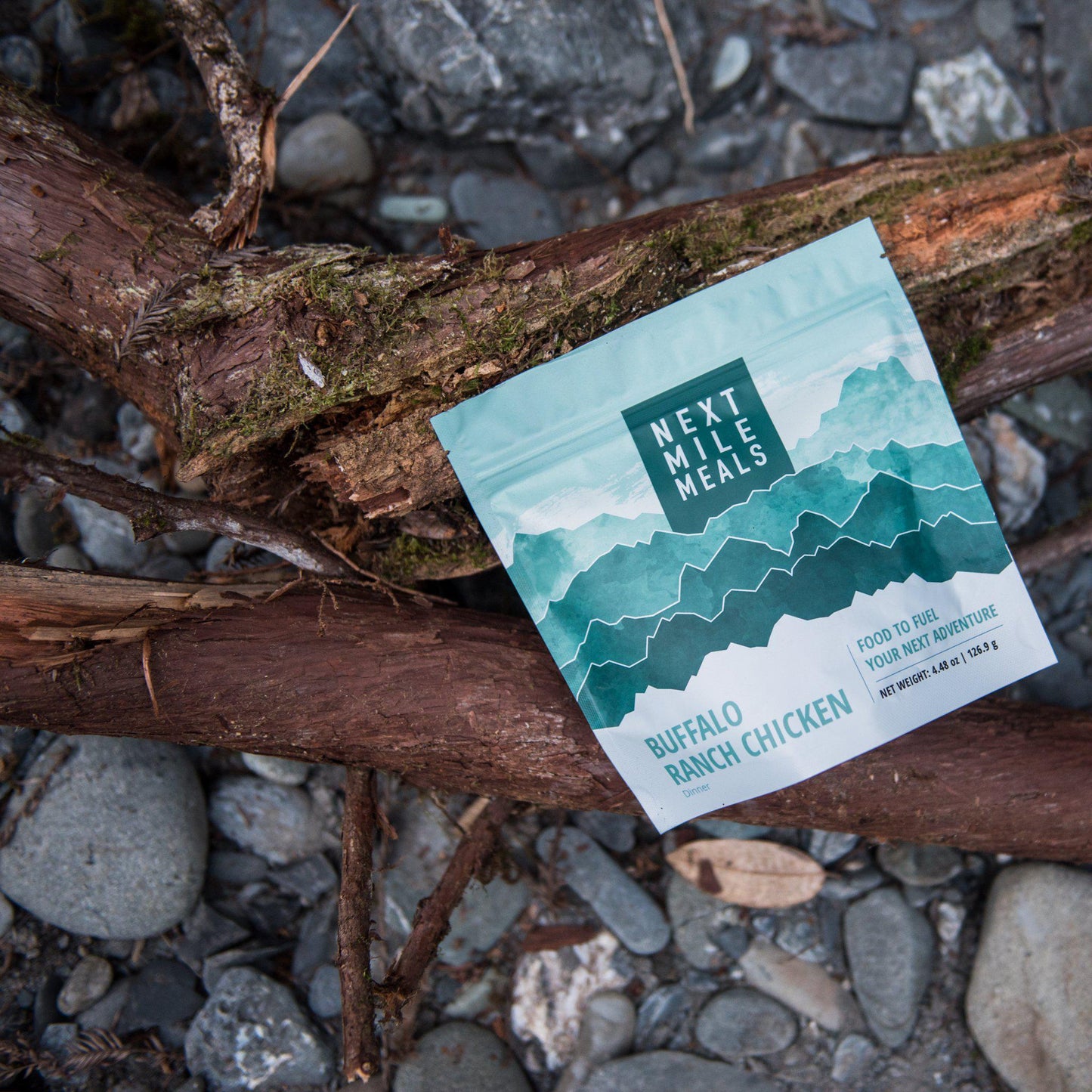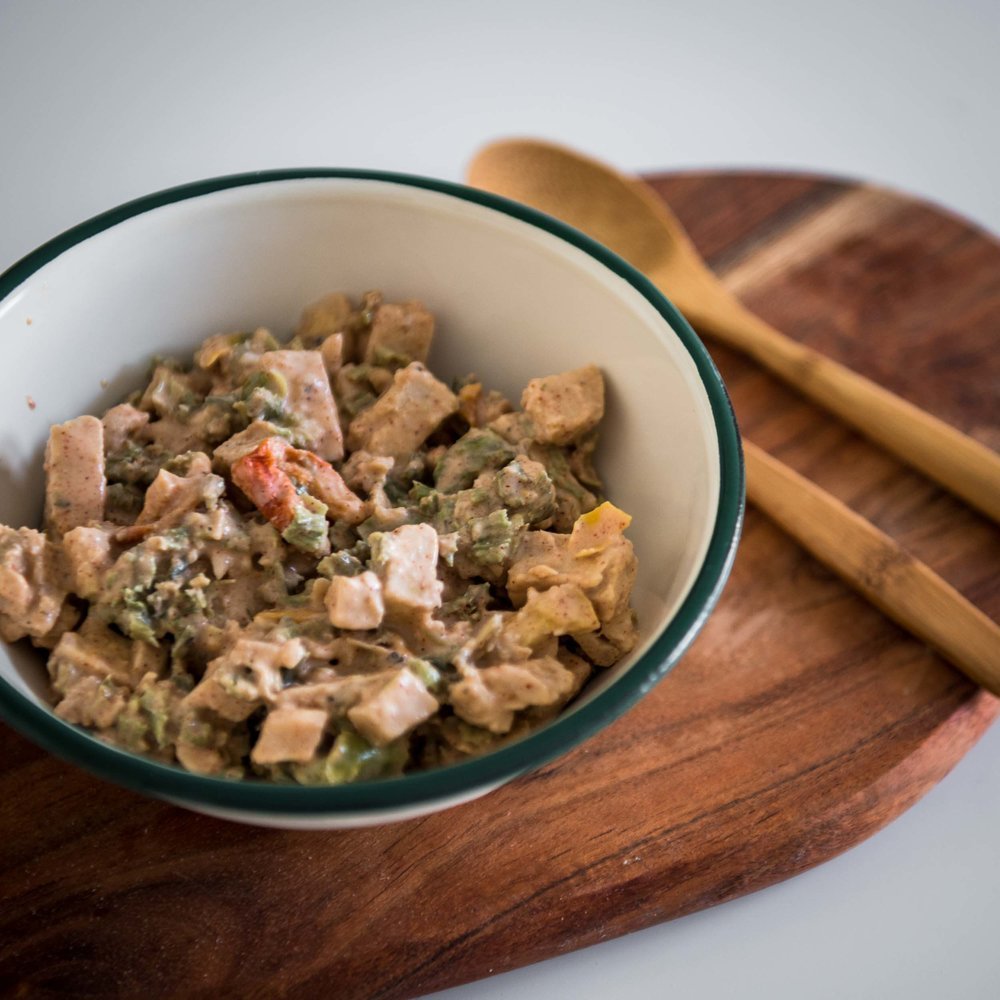 Keto Friendly

Just 9 net carbs for an entire filling meal of creamy buffalo chicken goodness.

Made in OR

Each meal is made by hand by our small team in our small kitchen facility in Oregon.

Power Packed

More chicken than you've ever seen in a backpacking meal equals plenty of protein to crush those miles.

Gluten Conscious

We use only gluten-free ingredients and our kitchen facility takes every precaution to prevent cross-contamination.

Easy to Rehydrate

Rehydrate in less than ten minutes, with less than a cup of water.
What our Customers Are Saying
I'm in love
The Buffalo Ranch Chicken is my favorite meal so far. I had the taco, the broccoli and the coconut chicken. ALL are good but the Buffalo Ranch Chicken is my favorite! Just the right amount of hot flavor with little spice. And with me being on a keto diet, I can go adventuring and not worry about getting out of ketosis with this low carb meal. Love this meal and appreciate this company.
Okay...so my experience was so awesome!
I am a "Keto" eater and backpacker. This time I was looking for an option that was little or no effort (on my part) and good healthy food that met my nutritional requirements. I was blown away by all three of my Next Mile Meals choices! After backpacking nearly 18 miles per day, my easy to make dinner meal was so good!!! It was as good as if I prepared fresh at home...maybe better! So happy to have discovered this option!!!
Not a Fan
These are my first experiences with this type of products. Can't say I enjoyed them. They don't rehydrate well, are expensive, don't taste good. For camping, I'll bring real food.
Excellent!
Delicious flavor with big pieces of chicken. So good!
Fraudulent company
Lured in for 10% discount on first order, ordered $340 worth of food, no discount. Site has chat option 'click to chat with human' now button. No humans. Auto-respond email says they only work 9-5 m-f (which is totally fine) but then you waste time waiting for a human when they have no intention of answering Sat/Sun. Olivia emailed me on Monday saying they have issues with their tech on the 10% discount, and she won't credit me, so I'd have to ... get this ... order another $340 worth IN THE NEXT 3 MONTHS to get the 10% on the original $340... that's 1/2 discount on 2X the order $ which is 2.5% shelling out twice as much money. I then offered to take the 10% in additional food, and she said no. Putting 2 & 2 together this is a drop ship outfit since they can't even adjust a credit card purchase, let alone do any shipping themselves. The owner emailed me and told me to shop at big box ... so his solution is he keeps my $34, I tried to work with him, his arrogance has me writing this review warning you folks that this is a top-down operation out of some office with a fulfilment center someplace doing everything. He wants to use all the big box tech to lure us in but can't manage the tech (Olivia's emails ... not my words) on overpriced food. Good luck.
I'd avoid like the plague. Contacting my credit card company to dispute this bait switch fraud. All I wanted was what they offered me to get me to purchase. The arrogance.
Hi Jonathan. After reviewing your messages to our staff, it appears you placed an order and then demanded our staff apply a discount retroactively to an older order. Our staff offered to look into the issue further to figure out if there was a technical issue as to why you didn't receive our email with our welcome code, but you became abusive and our founder (a woman, for the record) stepped in to prevent her team from enduring more. She stated to you that threats and bullying had no place in our company and encouraged you to shop at larger companies that might cave to your threats. You are welcome to handle your delivered order with your bank however you deem appropriate. Cheers.